Sisters Stands with LAWRS: ¿Como se puede ir, si no hay donde ir?
Friday, September 21, 2018
CN: discussion around detention, state violence, deportation and abuse
The below poems were written by Latin American women as part of a workshop with the Latin American Women's Rights Service (LAWRS) [1].
These are their experiences of immigration enforcement as migrant women and survivors of domestic violence.
The workshop where they were written is part of the Step Up Migrant Women campaign, which is fighting to separate reporting domestic violence and services from immigration controls.
——————————————————————————————————————————————————————
Safety, destitution or deportation
My life shouldn't be reduced to a choice between the lesser of two evils
A piece of paper does not define my humanity
Yo soy mujer
And I have the right to a life free of violence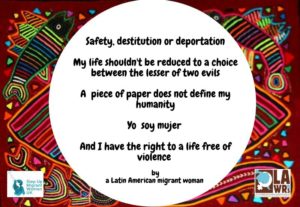 ——————————————————————————————————————————————————————
I follow the blue and red light
I pour my tale to you,
my accent thick, it swells my tongue
you ask do you have permission to stay?
Visa, visa, he says…
it seems that the scent of arepa, pescao frito and frijoles is much more detectable that the bruise in my cheek
justice is blind indeed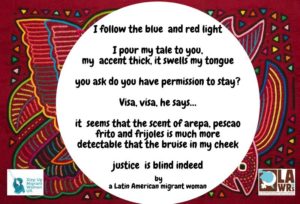 ——————————————————————————————————————————————————————
How sad it is not to be able to access a job for which you are more than qualified simply because of your skin colour and for your accent.
The impotence a mother feels when she does not have a safe place to sleep with her children, simply because she is somehow an "illegal person".
Have you ever been afraid to speak in public in fear of being outed as a migrant?
Ivonne Hurtado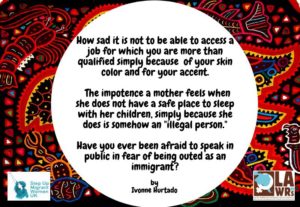 ——————————————————————————————————————————————————————
I fell, I got up
I am a fighter
I am strong, I am unique, I am a woman
I am a person
I have rights
and shall not not be trampled
I must be respected
Although I don't have a visa stamp
I'm like you
I do not stop being a person with rights.
RIGHT TO A PRIVATE LIFE!!!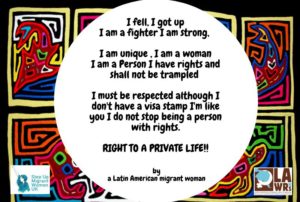 ——————————————————————————————————————————————————————
These poems clearly highlight the dangers of our "hostile environment". Migrant women are forced to "choose" between border violence and domestic violence, as the act of reporting domestic violence exposes them to threats by the police and Home Office because of their immigration status. Reporting domestic violence to police has resulted in threats of detention and deportation for migrant women.
¿Como se puede ir, si no hay donde ir? How can she leave, if there's nowhere to go?
On top of this, specialist services for BME women and migrant women have felt the worst of government cuts and austerity, making it even harder for migrant women to get support in the face of this racist immigration system.
The state cuts off support for people with different kinds of immigration status; this is called 'No Recourse to Public Funds'. For migrant women who experience domestic violence, this is life-threatening. This is because about half the funding for refuges comes from housing benefits, which migrant women are usually barred from. As a result, migrant women and their children have been turned away from domestic violence shelters. In 2017, just 7% of women with No Recourse to Public Funds found space in a shelter when leaving domestic violence.
This shows the racism at the heart of the criminal justice and immigration systems, which puts deportation before domestic violence services. Our current government's plans in the Domestic Violence & Abuse Bill, which focuses on longer criminal sentences, will do nothing to help survivors of domestic violence.
Sisters Uncut stands with our sisters at LAWRS in demanding for the removal of immigration enforcement from all of our services to ensure seeking support is kept separate from immigration enforcement.
We demand the abolishment of No Recourse to Public Funds.
We demand an end to austerity and brutal cuts to specialist domestic violence services because NO SISTER IS ILLEGAL.
——————————
[1] Note on gender and statistics: the statistics mentioned in this post use binary gender categories only. The experiences of LGBTQI migrants and survivors of domestic violence are often erased in these records, but LGBTQI migrants face specific forms of oppression at borders and in relation to DV.
——————————-