Press release: Domestic violence protesters crash BAFTA red carpet to call "Time's Up" on Theresa May
Sunday, February 18, 2018
Feminist protest group best known for storming the red carpet at the 2015 film premiere of 'Suffragette'
Sisters Uncut are drawing attention to Theresa May's domestic violence policies, which they say are a "dangerous distraction" that will leave survivors "locked up in prison, locked out of refuges, and locked in to violent relationships."
Inspired by the global Time's Up campaign, the group are calling 'Time's Up' on the government, saying they must give power back to survivors by funding refuges and specialist services.
Phone: 07840 060006
E-mail: [email protected]
Twitter: @sistersuncut
#TimesUpTheresa
Sisters Uncut stormed the BAFTA red carpet to protest Theresa May's upcoming Domestic Violence and Abuse Bill, which they say will criminalise survivors while distracting from devastating funding cuts to domestic violence services nationwide.
A group of activists from Sisters Uncut jumped onto the carpet as celebrities were arriving at the ceremony wearing t-shirts declaring "Time's Up Theresa." While laying on the red carpet, they chanted "the DV Bill's a cover-up, Theresa May your time is up."
In their highest-profile action to date, the group aim to add another voice to the global Time's Up campaign against gender-based violence, by demanding that the government meet their obligations to support all survivors of domestic abuse.
The Prime Minister has made clear that she intends the Bill, which is still under consultation in parliament, to bring in tougher sentences and "deliver more convictions" for domestic violence. Sisters Uncut say that these measures skirt the government's responsibility to support all survivors of domestic violence, leaving them locked up in prison, locked out of refuges, and locked in to violent relationships.
In the US, similar policies to those the Domestic Violence and Abuse Bill is expected to introduce have led to an increase in the number of survivors being arrested, especially black and minority ethnic and poorer survivors. Such criminalisation of survivors is already happening in the UK, and is extremely dangerous, as highlighted in recent reports about the death of Katrina O'Hara, who was murdered after being wrongly investigated by the police instead of her violent partner. Recent research by the Prison Reform Trust found that survivors reported being repeatedly arrested by the police despite their partner being the primary aggressor.
Other stories show certain survivors face much greater risks when they report abuse to the police, such as in the recent case of a rape victim being detained and threatened with deportation. Sisters Uncut say that the Bill will only make these stories more common, and highlight the fact that already, 57% of women in prison are survivors of domestic violence who should have received support, not sentences.
Suzanne Da Costa, a domestic violence helpline worker who took part in the protest, said: "Imagine calling the police for help and ending up in a police cell – it's incredibly traumatic and a story I've heard too often from survivors. We shouldn't be giving the police more power, we should be giving power back to survivors".
Sisters Uncut say that the Domestic Violence Bill is a dangerous distraction from the austerity cuts that have decimated the domestic violence sector since 2010. Refuge budgets have been slashed by almost a quarter, resulting in 1,000 women and children being turned away by refuges over a six-month period, according to The Bureau for Investigative Journalism. This is set to worsen if the government proceeds with plans to remove housing benefit funding from refuges.
The global Time's Up campaign, set up after the release of an open letter from the Latina Alianza Nacional De Campesinas (National Farmworkers Women's Alliance) showing solidarity with Hollywood actors who have experienced abuse, has been championed by entertainment industry figureheads. On the link between the campaign and today's action, one of the protesters Ana Kaur said:
"We are in solidarity with the Time's Up campaign. Like the Alianza Nacional De Campesinas, we recognise that gender-based violence happens everywhere, and that to disclose abuse requires support. As well as calling Time's Up on individual perpetrators, we have to call Time's Up on our government for failing to provide us with real options and support".
No arrests were made.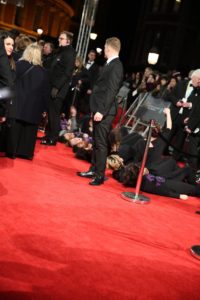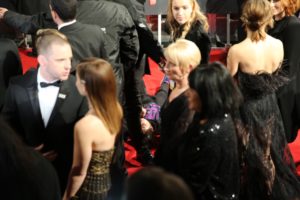 Notes for Editors:
Sisters Uncut are a direct action group protesting cuts to domestic violence services. They are best known for storming the red carpet at the 2015 premiere of the film 'Suffragette'. The group was formed by domestic violence survivors and sector workers in 2014, and now has a network of groups across the country.
Sisters Uncut is formed of non-binary people and women. Non-binary people don't identify their gender as "male" or "female"; they may identify as neither, bother or differently at different times. Non-binary people are often erased from official statistics as gender is only recorded as male/female but still disproportionately experience gendered violence – research shows that 39% have experienced domestic violence.