#GE2017; Nearly 100 years on & women still can't vote
Monday, April 24, 2017
Shortly before she called the general election, Prime Minister Theresa May commissioned a statue of the suffragist Millicent Fawcett to stand in Westminster. The statue, she said, would be "a reminder of how politics only has value if it works for everyone in society."
I agree: political inclusion is a fundamental right. Even if it's part of a broken political system, voting is something that we should enjoy or endure together. On this basis, Theresa May is a hypocrite, paying lip service to the struggle for women's enfranchisement, while doing nothing to ensure that thousands of women and non-binary voices will be heard in this General Election.
How? By depriving domestic violence survivors, prisoners and other people with no fixed address, of their right to vote or vote safely.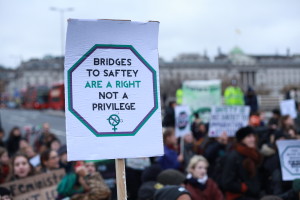 Women imprisoned in detention centres are barred from voting. This is in spite of the fact that three-quarters of women held in immigration detention are eventually released back to their communities. Many of these women are citizens of Commonwealth countries who are entitled to vote whilst living here anyway. Surprise surprise, border and immigration control is a racist scare-tactic used to oppress, silence and violate communities of colour, and in this context also to deny their right to vote.
Women and non-binary people in prison, the vast majority for non-violent crimes related to survival and exploitation, are also banned from voting. When at least 46% of women in prison are survivors of domestic violence and 53% were abused as children – they surely have a right to vote for the party that will make the laws, policies and services that could safeguard their lives. The ban on prisoner voting continues despite the European Court of Human Rights (ECHR) saying the ban was unlawful and against the Human Rights Act on two separate occasions (2005 & 2015). The UK government completely ignored these rulings and now that Brexit is underway, will probably ignore and degrade prisoner rights even more in the future.
For survivors of domestic violence living in refuge accommodation its a similar story and one I have recent experience of. In the lead up to the aforementioned delightful Brexit vote in June 2016, I was living in a refuge. The address was secret and a PO Box was used for our post. Beyond the day-to-day frustrations of not being able to order a take-away or get an ASOS delivery, it is not an address from which you can exercise your voting rights.
So I was left with two options:
1) register myself as someone with no fixed abode or permanent address; or
2) obtain the complicated proof to register anonymously.
The former option, though most straight forward, means your name and address are published on the Electoral Register. This is a public document accessible to anyone, putting survivors at huge potential risk. Not only does this harm survivors of domestic and sexual violence, but also those experiencing stalking or harassment or those appearing as witnesses in court.
The second option is a complicated, system of gate keeping hell. To register anonymously folk need to provide either a court order/injunction or evidence signed off by a 'qualifying officer'; either a Police Superintendent, a Director of Social Services or a Director General of the Security Services. Not people most of us have on speed dial…
Most women and non-binary survivors don't have a court order or injunction. The devastating cuts to legal aid have made it more or less impossible to obtain one and our experiences are routinely disbelieved. For a large proportion of domestic violence survivors, especially survivors of colour, migrant and LGBTQ+ survivors, there is little incentive to seek protection from the criminal justice system, who actively harm, erase and blame us for the abuse we have endured. In 2015 only one in five women using domestic abuse services were able to take a criminal case against the perpetrator.
Even the lack of social and secure affordable housing has an impact on voting; many survivors live in refuges or hostels for extended periods, removing them from the voting process for years at a time. The feeling of disempowerment was overwhelming for me. Having built up the courage to leave my abusive partner I was being punished at every turn, and now even my right to vote had been taken away from me.
The reality for most survivors living in refuge, hostels or sofa surfing with no fixed abode is that we are refused entry to a supposedly democratic process. But when the Tories are destroying the support services we rely on, work in and fight for it's no surprise they're trying to exclude us from voting against them.
On 3rd April 2017, after a prolonged campaign by Womens Aid, the Government announced plans to allow survivors to register to vote anonymously. These proposals will expand who is considered a 'qualifying officer' and the list of court orders or injunctions will also be updated.
But these plans are not in place yet and the deadline to register to vote is 22nd May 2017. It is too little too late. Like every gesture Theresa May has made about domestic violence, it's simply a sticking plaster on a haemorrhage.
We have one month to make noise about this.
One month to make sure our sisters are heard.
We cannot watch another election go by that excludes survivors, migrants and prisoners.