Sisters stand with the Stansted 15
Friday, December 14, 2018
In March last year, the Stansted 15 disrupted an act of state violence – the forceful deportation of people by charter flight to Nigeria and Ghana. The Stansted 15 had every reason to believe that people on board the aircraft were being led into severe danger, and so they had every reason to do everything they could to disrupt this. Their successful feat of direct action is vindicated not only by these aims but by the fact it has allowed 11 people who were on that plane to, to this date, stay fighting for their right to remain in the UK – 2 of whom are victims of trafficking.
On December 10th this year, the court returned a guilty verdict of "intentional disruption of services and endangerment at an aerodrome" for the Stansted 15, an obscure terror-related charge. In response, the next day around a thousand people gathered outside the Home Office – to protest this decision and to oppose continued state-perpetrated violence toward migrants in detention centres, through deportation, and elsewhere.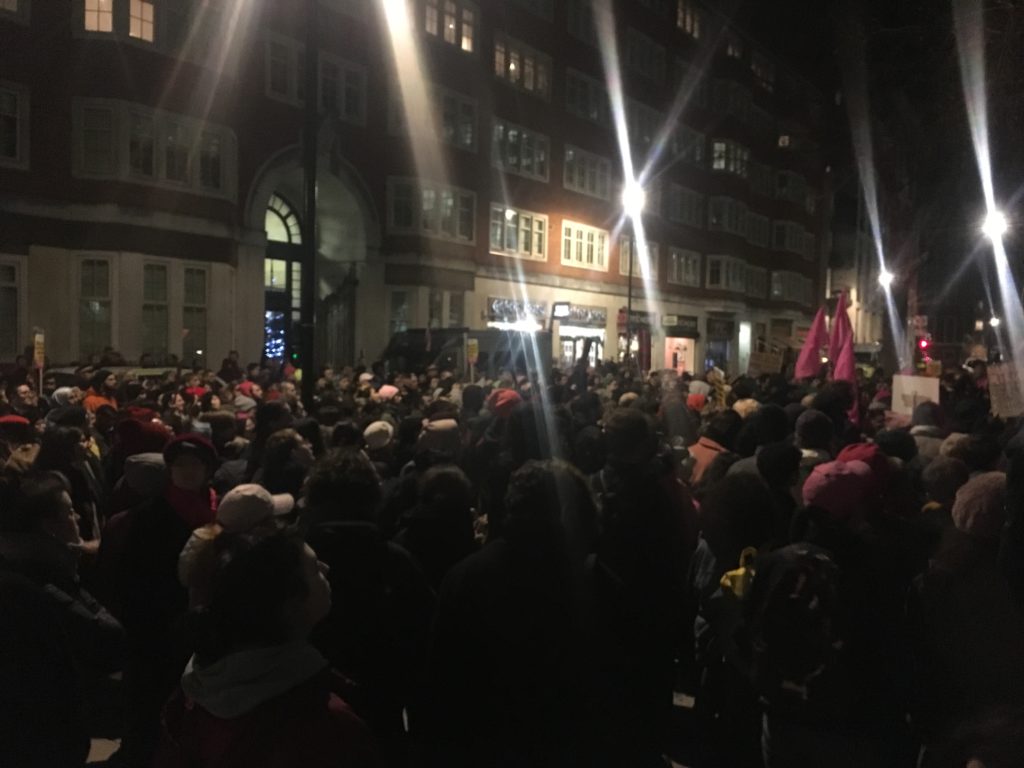 Sisters Uncut fights in solidarity with the Stansted 15 and all those standing against and affected by an abusive immigration regime. We lift up the actions of the Stansted 15, we honour the risks they have taken upon themselves for the safety of others, and we are outraged at the guilty verdict. It is deplorable to consider their actions endangerment when not only did they take every precaution to ensure their action's safety but also by their action directly challenged the endangerment of lives on that plane.
Alongside the criminal justice system, the immigration regime, including so-called hostile environment policies, serves only to protect the most powerful and their private interests. A "justice" system that punishes rather than supports someone fleeing persecution, and simultaneously persecutes those who protest this injustice, is not a system that desires justice. This is a system which seeks to control those who are black, brown, migrants, LGBTQ people, those with disabilities, and those who dissent from that oppressive agenda.
Hostile environment immigration policies result in many survivors who are migrants being trapped in abusive relationships, unable to report due to fear of detention and deportation. When the Stansted 15 carried out their action, they knew that one of those on board the flight was a lesbian threatened with death on arrival. Many detainees in immigration removal centre Yarl's Wood are survivors of physical and sexual violence and fear further gender-based violence, or even murder, if they are not permitted to stay in the UK. Many also experience gender-based violence during their time in detention and/or as a direct result of carceral and immigration controls in this country.
The struggle against migration controls is a struggle against white supremacist and patriarchal structures both in the UK and across borders, and we embrace the Stansted 15 as our allies in the fight against these oppressive structures. Consistently, groups like End Deportations, Detained Voices, SOAS Detainee Support, Unfollow MFJ and Lesbians & Gays Support the Migrants have called attention to the violence of the immigration regime, especially hostile environment policies. However, as the Tories increase hostility toward and surveillance of those who might be found to have insecure immigration status, black and brown people are being imprisoned, detained and deported at terrifyingly high rates.
We take direct action out of desperation, and these are desperate times. But a dangerous precedent has been set by these charges of terror-related offences, which could have serious consequences for protests and other direct actions; particularly at airports. We recognise, and deeply know, that taking direct action is a powerful tactic enshrined in our history by our radical elders. Direct action reclaims power by the people, allowing us to intervene when we are party to severe injustices. It shines light on state failures and can change public perceptions of social issues. It holds the state to account.
This verdict and the accompanying threat of life imprisonment for nonviolent direct action evidences the extreme extent to which we are repressed. It is particularly relevant as often those most affected by violent state policies, particularly racialised people, are also those at greater threat of police violence and harsher treatment in court, creating higher risk for them engaging in direct action. While it can be an important show of solidarity for those with more privilege to acknowledge this in putting their bodies on the line in direct actions, this verdict shows that anyone can be vulnerable to serious charges when they pose a big enough threat to the state's immigration regime. he state is trying to intimidate us by setting this precedent, but we must not be intimidated. We must continue to fight for the freedom of the Stansted 15, to fight for our right to raise our voices against state violence without being treated as a danger. We are fighting for safety. We are fighting for justice. We pose a danger to nothing but the state's own violent agenda.  
To those in power our message is this: your actions are violent, your actions are dangerous, and you think that you can get away with them because you have targeted people who you perceive as powerless. We are those people. We will not be silenced.
To our allies; we urge you to support the Stansted 15, as their case goes to appeal and we continue to fight for their freedom and the freedom of all those affected by the hostile environment and criminal justice system. Please donate to their legal costs and share news far and wide. Sign this petition and attend this day of action on the 18th December, International Migrants Day (actions in many cities). To follow the Stansted 15's case and for more information on how to support go to http://enddeportations.com/.
Image: Stansted 15 activists. Credit: @Edeportations/Twitter.