HUNDREDS OF PRO-PALESTINE ACTIVISTS SHUT DOWN LIVERPOOL STREET TO DEMAND CEASEFIRE ON THE EVE OF THE BOMBING OF JABALIA REFUGEE CAMP.
Wednesday, November 1, 2023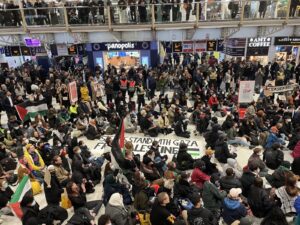 HUNDREDS OF PRO-PALESTINE ACTIVISTS SHUT DOWN LIVERPOOL STREET TO DEMAND CEASEFIRE ON THE EVE OF THE BOMBING OF JABALIA REFUGEE CAMP.
Over 500 people took action to shut down Liverpool St station to amplify urgent demands for a ceasefire in Gaza 
Sisters Uncut claim it 'is not business as usual' and call for an end to Israeli genocide, a ceasefire and an end to the arms trade with Israel. 
Many commuters joined in, with one even showing the Palestine flag on their phone.
LINK TO PHOTOS AND VIDEOS – CREDIT SISTERS UNCUT
EMAIL: [email protected]
At 17:30 on Tuesday 31st October, direct action group Sisters Uncut coordinated activists from across the Palestinian liberation movement to stage a sit-in during rush hour on Halloween at Liverpool Street station.
Demanding an immediate ceasefire to Israel's UK-backed attacks on Gaza and an end to arms exports to Israel, speakers from Palestinian Youth Movement, Na'Amod, No More Exclusions, Sisters Uncut and International Jewish Anti-Zionist Network spoke to the gathered crowds, Palestinian music was played and chants were led. 
Chants included "Ceasefire now!" and "Stop bombing Gaza!"  
The protest follows the continued refusal of UK politicians to call for a ceasefire in Palestine and their continued support of Israel's aggressions on Palestine. 
Following Israeli PM Benjamin Netanyahu's calls for  'a time for war' and Keir Starmer's refusal to call for a ceasefire, the group calls for there to be a ceasefire now and for the UK to end its arms exports to Israel, in the same way apartheid South Africa was isolated. 
The group is also urging Keir Starmer and the UK Government to represent the demands of the 500,000+ people taking to the streets every weekend.
The groups pointed out that between 2016 – 2010 alone, Britain approved arms licences to Israel worth £387 million and most recently prime minister Rishi Sunak sent Royal Navy war ships and RAP planes to Israel. Britain has also allowed Israel to breach international law with impunity.  
The protest is taking place in Liverpool Street Station due to its connection to the City of London, notorious for funnelling arms trade money through it. Banks including Legal & General, HSBC and Barclays invest in the arms trade with Israel, and HSBC, Lloyds, RBS, Barclays and Standard Chartered all help provide loans to companies that arm Israel. 
Crossrail is currently advising the Israeli government on building a national transit service. Britain continues to profit from not standing up to this genocide.  
QUOTES:
Aditi Wilson said:
"It cannot be business as usual when businesses in the City fund and profit from the murders of Palestinians. The UK has a moral obligation to stop fuelling this war with weapons and with its public endorsement. The UK must speak in strong favour of an immediate ceasefire in Gaza and allowing humanitarian aid into Gaza, as well as an end to the illegal occupation of Palestine by Israel. Has everyone lost their minds? How is it possible that we are condoning such obvious war crimes and racist rhetoric from Netanyahu?"
Another protestor, named Eda Gencer said: 
"It's clear to see the UK won't challenge Israel as they are once again putting  profit over humanity. How anyone can see the pictures emerging from Gaza and not be calling an immediate ceasefire is beyond me! We are here today to tell the government, this is genocide and it must stop! They bombed Jabalia refugee camp just today! They are literally committing war crimes in front of us!"
"As Israel continues to bomb hospitals, like the Al-Ahli hospital, the Turkish-Palestinian Friendship Hospital, Al-Quds hospital and with threats made against Al-Shifa Hospital, the UK government must stop endorsing war crimes and stand up to Israel. Until then there can be no business as usual." 
Referencing the Kindertransport statue at Liverpool Street station, Jewish protester Miriam Eppenheim said: 
"In 1938 the British Government allowed 10,000 Jewish children to find refuge here, whilst abandoning their parents to murder at the hands of the Nazis. Today our Government has not only abandoned but enabled the murder of thousands of Palestinian children, together with their parents and families, at the hands of the Israeli war machine.The British Government has long been complicit in colonial violence, one example marked by the Balfour Declaration in 1917 – the anniversary is this Thursday!".
Notes for Editors:
EMAIL: [email protected]
[1] As well as describing Palestinians as "human animals", multiple senior Israeli military and political officials have been stating openly that "The emphasis is on damage, not accuracy," that "Gaza will eventually turn into a city of tents," and that "There will be no buildings." 
Israeli Defence Minister: 'We Are Fighting Human Animals' | HuffPost UK Politics (huffingtonpost.co.uk) 
[2] Israel's actions to stop fuel, electricity, food and water entering Gaza have deliberately created a dire humanitarian crisis of 'unprecedented' proportions, according to the United Nations. Charity Oxfam stated this week that Israel is using 'starvation as a weapon of war'.
[3] UK arms exports to Israel include engines for drones, ammunition and light arms. Over 30 licences allowing unlimited delivery of equipment to Israel have been granted between 2016-2022, according to Campaign Against Arms Trade's database.