Justice for Jasmine: Sisters Uncut solidarity with Jasmine York, facing jail for Kill the Bill protest
Monday, January 31, 2022
Today we are picketing the trial of Jasmine York at Bristol Crown Court. We stand in unconditional solidarity with her. Jasmine was charged by police after she complained about her injuries.
Jasmine York was brutalised by police and badly bitten by police dogs at last year's Bristol Kill the Bill demonstration. But today she's the one on trial, facing up to 14 years in prison. Her case symbolises the very worst of police violence against women, and abuse of police powers.
Whilst attending the protest against increased police powers on 21 March 2021, Jasmine was badly beaten by police officers and bitten by a police dog. Photographs of her injuries have been widely circulated on social media, and received press attention in the Guardian at the time.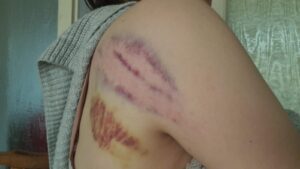 On 22 March 2021, Jasmine complained to the police about her injuries, who informed her that an investigation would be opened.
On 31 March 2021, Jasmine was informed by police that no investigation into her injuries would take place, and instead Jasmine was arrested and charged. It seems that the police used her complaint, and her comment in the Guardian, as an opportunity to avoid scrutiny for their actions and make an example of her.
On 31 January 2022, Jasmine faces trial for riot and arson in Bristol Crown Court, and could spend 14 years in prison.
We stand in unconditional solidarity with Jasmine. She could be any one of us. Police violence against women protestors like Jasmine is state-sanctioned violence against women. We launched the Kill the Bill movement last year in response to the police violence against women protestors at Clapham Common. It was evident then, as it is now, that police are drunk on the powers they already have, and Jasmine's case is further proof that police cannot be trusted to have more. More police powers will lead to more violence against women.
The events surrounding the disappearance and murder of Sarah Everard ignited a movement against policing. Jasmine is part of that movement. This movement, to kill the police crime sentencing and courts bill, was ignited after Sarah Everard was kidnapped, raped and murdered by a serving metropolitan police officer and after the police brutality meted out against mourners at Sarah's vigil disgusted millions of horrified onlookers.
We attended the vigil for Sarah and everyone who faces gendered violence. We attended because the police told women to stay indoors when Sarah went missing, and when a vigil was called to stand up to this example of police sexism, the cops took every opportunity to intimidate the organisers into calling it off.  We attended because we would not obey police orders.
We attended on the principle of defending the right to protest, the right to freedom of assembly, and the right to hold the police to account when they rape and murder our sisters! When 1000 of us turned out to stand up to police intimidation, they lay their hands on us, they chased us, they forced us to the ground, they handcuffed us, and they carried us away into the dead of night on Clapham Common. This was just minutes away from where one of their own kidnapped Sarah Everard. The outcry over Sarah's murder and the police brutality at the vigil in her name quickly pivoted towards the governments planned power grab the following week, which would give the police unprecedented powers to unleash violence against women, protestors and working class, Black and Gypsy Roma Traveller communities.
In the days after the vigil, Jasmine joined thousands across the country to protest the government's plans to give the police any more powers through the Policing, Crime, Sentencing and Courts Bill. Jasmine joined them to stand up against police misogyny, police racism, police brutality, and police intimidation. When Jasmine came out on the streets, as is her right, she was beaten by police, and viciously attacked by police dogs. She went home with the evidence of police brutality across her body.
Jasmine has a protected right to protest, a right to assemble. In exercising that right, she made a complaint to the police about her injuries. In what seems like an attempt to avoid accountability and scrutiny, the police made a counter claim against Jasmine, accusing her of initiating the violence. This is an age-old tactic by the police. The cops cannot tolerate any challenge to their authority and have repeatedly shown that they will smear the reputation of those who seek to hold them for their violence and corruption.
The cops are so intolerant of any scrutiny, they will mete out violence against anyone who challenges them. Last week, we heard that Dr Koshka Duff was arrested for giving a 15-year-old boy a bust card while he was being stop and searched. She was pinned to the ground by police officecrs, strip-searched, subjected to misogynistic jokes and humiliation for exercising her right not to give her name. This can only be described as state sanctioned sexual assault.
The police sent police to infiltrate and spy on Doreen Lawrence's justice campaign for her murdered baby boy Stephen. Spy cop tactics were used against a string of women in the climate justice movement such as Kate Wilson, who was targeted with state-sponsored rape to gain access to and dismantle a movement fighting against the destruction of our planet.
Since Sarah Everard's murder, the media have finally shone a light on what some of us have known for years: that the police are an institutionally misogynistic gang that use their powers to beat, sexual assault and murder women both on and off duty. Thousands of reports of domestic and sexual violence by cops continue to go uninvestigated.
From 2015-17, 415 reports were made against officers who abused their position to commit sexual assault. And who do the cops target for sexual assault when they are on duty? Domestic and sexual violence victims, sex workers and drug users. Women they are banking on being unprotected, vulnerable and unlikely to be believed. What happened to Sarah Everard, to Doreen Lawrence, to Kate Wilson, to Koshka Duff, to Jasmine and the countless women subjected to violations and violence at the hands of cops show us that the police are the perpetrators.
The police have the monopoly on violence in our society, and the only way they can maintain that violence is through a culture of impunity. They know that if they are to maintain their authority, they must resist any criticism from outsiders.
If you give a class of people legal powers, handcuffs, tasers, spray, batons and even guns to carry out their legal powers and then ensure that they are only accountable to themselves, they are going to use those powers both within the law and outside of it, to hurt and oppress those most exploitered in our society. Because the job of the police is to side with and protect the powerful.
Police will repeatedly use their powers to ensure those most exploited stay in line, whether women, black and white working-class communities, Gypsy Roma and Travellers, migrants, queer, trans or disabled people. We are in the midst of an abolitionist movement based on solidarity between all those who face police oppression. Through deep community organizing such as community self-defense and CopWatch, we will resist every stop and search, every police assault, every police kidnapping, and we will make ourselves ungovernable to the police crime sentencing and courts bill and all police power. We will withdraw our consent.
If we have any hope of winning, we must also stand in active solidarity with all those facing police repression for holding cops to account. We are proud to stand in solidarity with our brave sister and comrade Jasmine. We demand that Jasmine is found not guilty of all charges and we make a promise here today: if they won't give us justice than we won't give them peace.