Why Sisters Uncut Took Action Against Private Security Giant G4S During our #NoSistserIsIllegal Week of Action
Saturday, September 17, 2016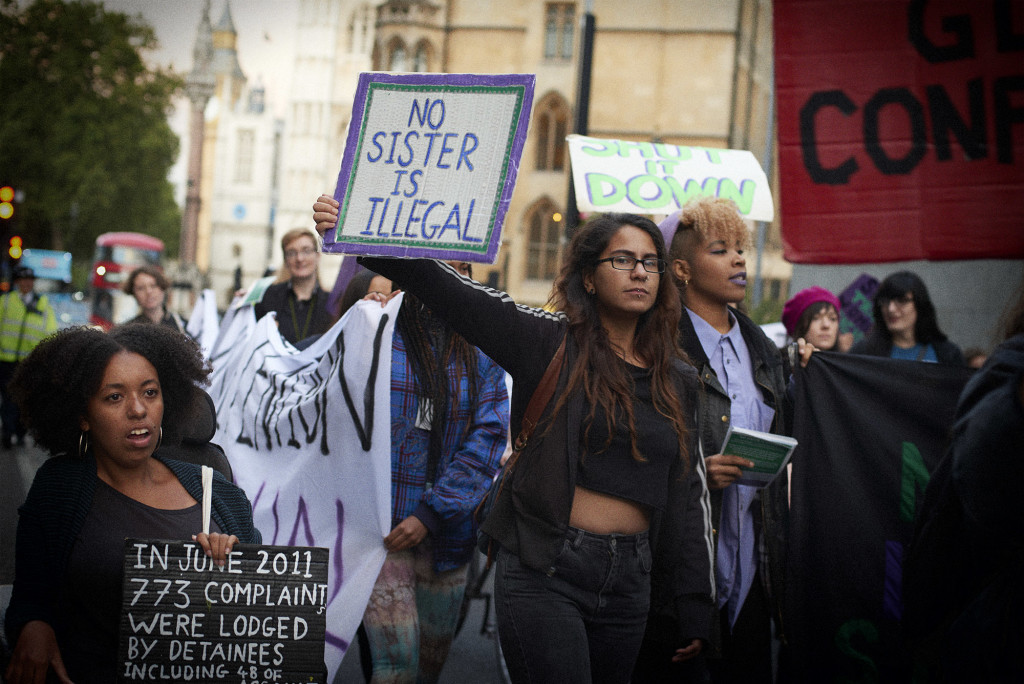 Migrant women and non-binary people face high rates of violence, but the government has sold the support services that save their lives to private security contractors with a record of abuse. By outsourcing support services to security providers, the government is forcing women and non-binary people fleeing violence to seek support from violent men.
A Call to Action
Last night, we took action against private security firm G4S two weeks before they are due to take over the Equality Advisory and Support Service, a national discrimination helpline that helps people facing sexism, racism and ableism.
The helpline was previously run by the Equality and Human Rights Commission. An open letter to the government about G4S however, states that the security contractor has "earned a reputation for serious systemic mismanagement and discrimination". This is not the first support service that G4S has taken over, they already run two Sexual Assault Referral Centres in the West Midlands.
Specialist services working with survivors of domestic violence should not be run by private companies with a history of violence.
Since austerity began in 2010, the government has forced over 30 specialist domestic violence services to close and has outsourced many support services to private companies with minimal expertise. Specialist domestic violence support services have borne the brunt of these cuts, especially those that help black and minority ethnic (BME) women, LGBTQ+ people and disabled women. Years of knowledge is at risk when the government hands contracts (and lives) over to private security contractors.
The discrimination helpline is a lifeline for sisters fleeing violence. When specialist services are handed over to the lowest bidder, vital support is provided by people with no expertise. As housing benefit cuts take hold, over 70% of refuges will be forced to close. By scutting services the government is putting more women at risk at the hands of violent partners.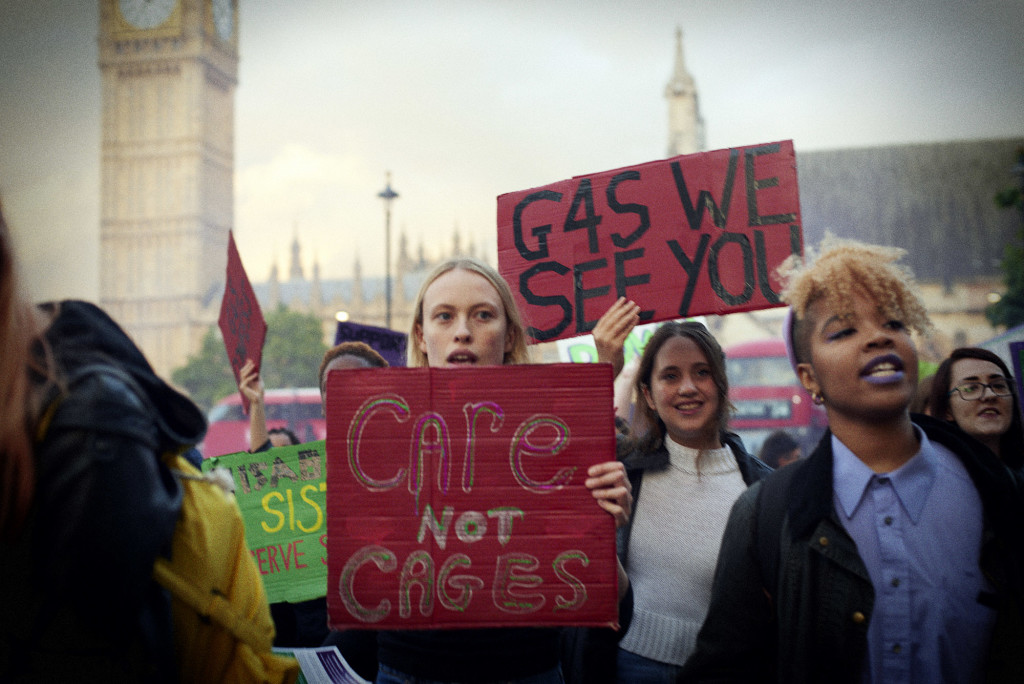 Who are G4S?
G4S describe themselves as world leading security solutions. All women and non-binary people fleeing gendered violence are entitled to safety and security regardless of their documentation, but we know that security giant G4S earn a considerable profit from the business of detainment and deportation. Not only was G4S the first private company to open and run a prison in the UK, they are the world's largest provider of electronic monitoring (tagging), monitoring over 14,000 people in the UK alone.
Why public contracts should not go to G4S: A History of Abuse
G4S is a private company driven by profit. We do not believe that they or any other such company should have a stake in public services, yet 27% of G4S's revenue comes from public contracts. The firm often comes under scrutiny for unfair practices, racial and gendered abuse as well as extreme use of force on detainees.
There were 773 complaints against G4S by detainees in 2010 alone, including 48 assault claims. Medical Justice's Outsourcing Abuse report documented many incidents of excessive force resulting in injury. Many detainees were reported as suffering with PTSD as a result of abuse experienced while under the care of G4S guards. The report also noted multiple incidents of racist language used by detention security guards against imprisoned sisters.
In 2010, Jimmy Mubenga was killed by G4S guards during his forcible deportation to Angola. This is just one of the fatalities caused by the extreme violence in our border system. Following Mubenga's death, HM Chief Inspector of Prisons condemned the "excessive" use of guards for transportation, stating that "is hard to justify against a background of reduced staffing levels across the public sector."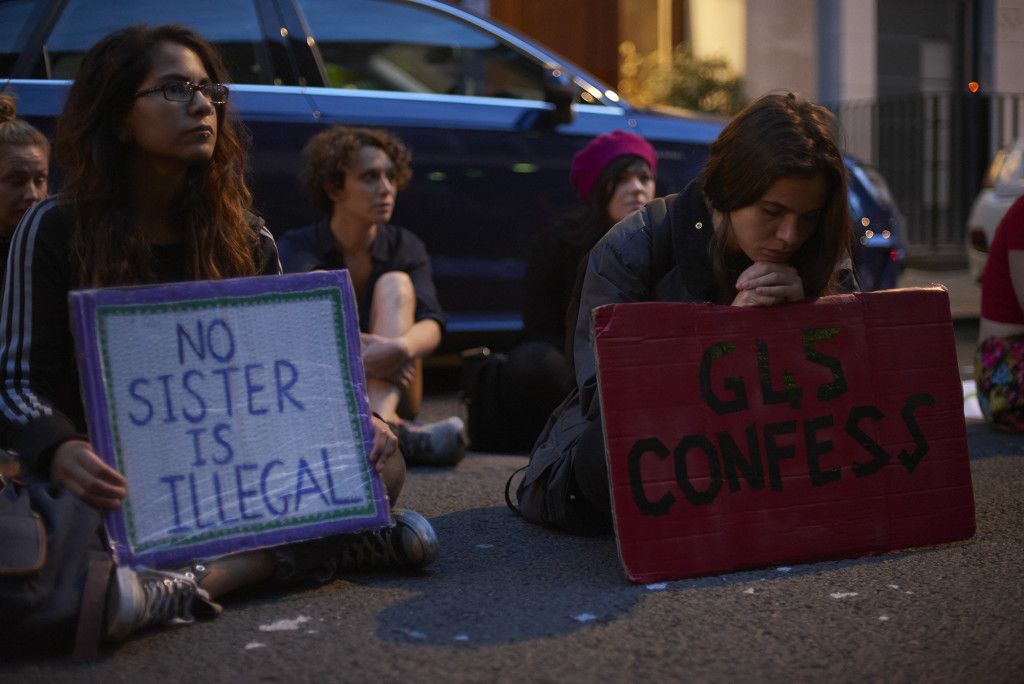 Following the news that G4S will take over the Equality Advisory and Support Service, leading Human Rights groups have criticised the government's move, describing the security contractor as "manifestly ill-equipped to provide advice on discrimination and human rights".
Sisters Uncut are deeply concerned about their ability to provide the support that women and non-binary people need. Migrant sisters fleeing gendered violence abroad or in the UK are at risk of being detained if they attempt to seek support with insecure immigration statuses, yet the same firm that profits from detention- is to provide advice and support to these groups.
Not only do private contractors profit from detention, but they are responsible for a range of services within the institution. This means that firms we know to have a history of violence are tasked with providing support during detention and deportation, as well as medical care for detainees and security in health facilities.
How much money to G4S make? Taxpayers' money goes to private security companies
G4S reported a revenue of 6.4 billion in 2015, with profits if of 227 million after tax. In the same year, new contracts won by the company amounted to 2.4 billion. Not only do the security giant hold private contracts, but almost a third of their revenue comes from public services funded by taxpayers' money. By undercutting price, G4S have taken over specialist services which is endangering those that the state should protect. Private firms like these are actively contributing to austerity.
Indefinite detention is ineffective, expensive and traumatic for sisters involved. An investigation by Corporate Watch and Stop Deportation when G4S was involved revealed that the UK Border Agency's annual expenditure on deporting migrants and asylum seekers on chartered flights increased from £1,752,991 in the year 2002-03 to £7,870,209 in 2011-12. Yet the number of people deported decreased from 3,048 to 1,647 during this time.
It is no coincidence that G4S also currently hold a seven year contract to run medical facilities in detention centres worth £23.4 million. Holding folks in detention for extended period of times increases the number of detainees and private security firms like G4S profit from providing an array of services throughout the detention and deportation system.
The firm also sees money-making opportunities with detainees. In 2012 G4S had 400 prisoners working more than 40 hours a week for next to nothing pay. This system condones state violence against migrant sisters, private companies are profiting from pain and should not be awarded any public service contracts.
In 2013 G4S offered to return £24 million of taxpayers money when an audit by accountancy firm PricewaterhouseCoopers revealed that the security giant was overcharging for their contracts since 2005. The criminal investigation revelead that G4S had been charging the government for tagging offenders who had returned to detention, had had their tags removed, had left the country and court attendees that had never even been tagged.
Austerity is ideological. The government's decision to sell public services to rich private companies like G4S ensures that the rich get richer. The cuts to domestic violence services, housing provision and specialist services for different groups have a devastating human cost. 
We believe the government should support survivors fleeing domestic violence, not persecute them.
We demand that the government invests public money in specialist support services that know how to save lives, not to private security contractors with a record of abuse.
Thank you to everyone who joined our #NoSisterIsIllegal Week of Action against Prison and Detention aligned with the International Week of Action against Prison and Detention.
#SupportNotSurveillance