PHOTOS: Sisters Uncut set off 1000 rape alarms outside Charing Cross police station
Saturday, March 12, 2022
FOR IMMEDIATE RELEASE
6pm Saturday 12 March 2022
The action marks the anniversary of the infamous Clapham Common vigil for Sarah Everard, where police beat and arrested women
Patsy Stevenson, violently arrested by police at the vigil last year, gave a speech to crowds: "I was arrested on the floor for putting down a candle"
Since the murder of Sarah Everard by serving police officer Wayne Couzens, repeated reports of police sexual abuse have broken into the press
For interview and comment contact: [email protected] / 07436324082
@SistersUncut #BecomeUngovernable
At 6pm on Saturday 12 March, members of feminist direct action group Sisters Uncut set off 1000 rape alarms at Charing Cross police station, the centre of the Met's misogyny controversy this year. On Twitter, the group said "One year ago today, the police waited until sunset to brutalise us at Clapham Common. Today, we waited until sunset to detonate 1000 rape alarms at Charing Cross station".
The group were joined by Patsy Stevenson, who gave a brief speech before the alarms were detonated. She said: "I was arrested on the floor for putting down a candle", and said "shame on you" to police officers present at the protest.
An IOPC report released in February investigated various allegations against officers at Charing Cross police station, including a police officer assaulting his partner, officers having sex while on duty, racist and sexist Whatsapp messages, including some sent within a police officer Whatsapp group that said 'I would happily rape you' and 'if I was single I would happily chloroform you.'(4) 
The investigation is the latest in an outpouring of abuse reports within the Metropolitan Police since the Clapham Common vigil, most recently culminating in the resignation of Cressida Dick. 
The date of this action marks the one-year anniversary of the Clapham Common vigil for Sarah Everard, which saw police officers ordered to violently manhandle women. The vigil kickstarted the Kill the Bill movement, which has seen thousands of people protest the introduction of expanded policing powers in the Policing, Crime, Sentencing and Courts Bill.  
This week, two judges ruled that the Met Police breached the rights of the organisers of the planned vigil for Sarah Everard, who did not attend the vigil itself.
Sisters Uncut maintain that police violence against women is not new. At least 15 women have been killed by police officers since 2009. As reported in the Guardian, according to the Centre for Women's Justice, one woman a week comes forward to report a serving police officer for domestic or sexual violence. 
The action calls for the public to "withdraw consent from policing", in reference to the tradition of 'policing by consent' in the UK. Sisters Uncut say, given the repeated reports of misogyny embedded in the institution, there is no way for women to consent to police power. Sisters Uncut maintain that more police powers will lead to more police violence and a society without police would be much safer.
Sisters Uncut advocate for police budgets to be cut, and funding for domestic and sexual abuse services reinstated. 
Quotes
Sisters Uncut member Olga Smith said : ​​"When we found out about Sarah's disappearance at the hands of a serving cop, we asked the police, how will you keep us safe? And the police said: stay home. Stay hidden. Carry a rape alarm. When we refused to hide away, when we gathered in grief and anger at Clapham Common to mourn our sister, Sarah Everard, the police brutalised us. Today we say: police are the perpetrators. Police don't keep us safe. That is why have thrown our rape alarms back at the perpetrators in the infamous Charing Cross police station."
Cassie Robinson, a 36 year old from London who attended the action said "I was there last year on Clapham Common, and the police's behaviour was disgraceful.  I've completely lost faith in the police to take violence against women seriously, and I participated in today's protest because I am withdrawing my consent for violent men to have any authority in this society." 
For interview and comment contact: [email protected] / 07436324082
Notes for Editors:
Images: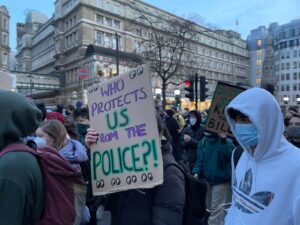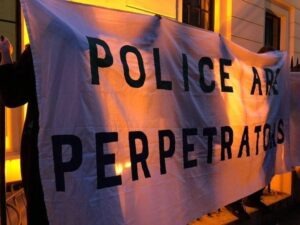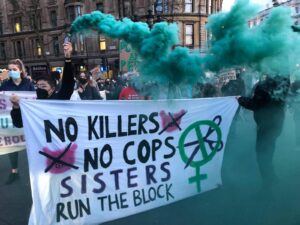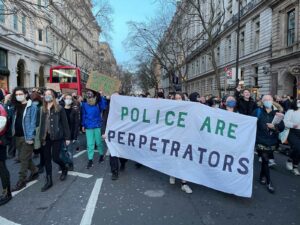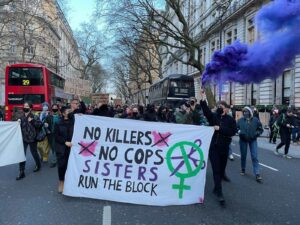 Video of alarms being set off: