This is how we know we can win
Tuesday, August 2, 2016
Last Thursday, sisters in Doncaster celebrated the opening of a new domestic violence service. Well, not so much a new service, but the revival of a service that had been forced to close – and that they fought to bring back.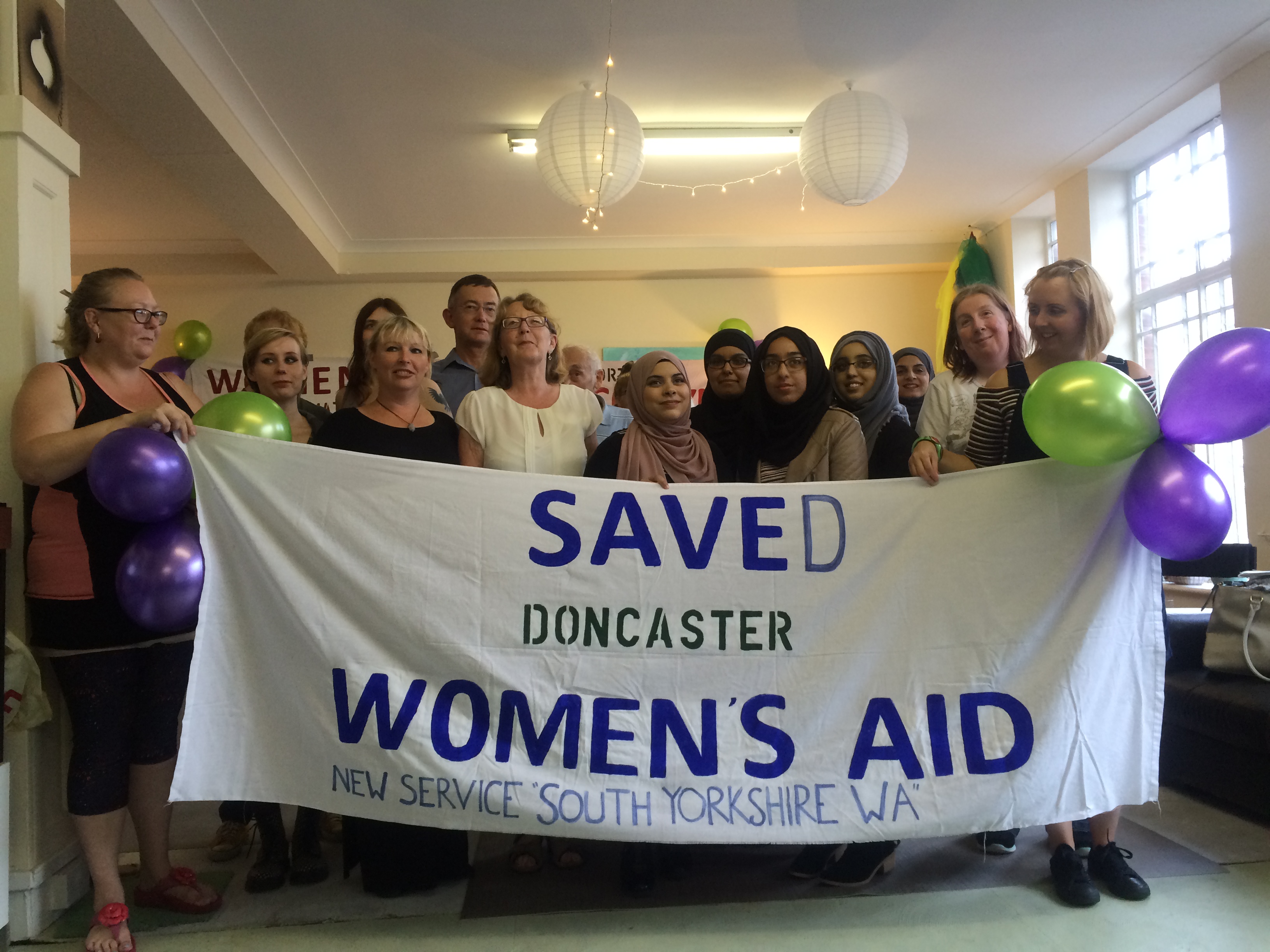 This didn't happen overnight, and it didn't happen without a whole community of Doncaster women from a range of backgrounds coming together, strategising and making noise. It was hard work, and the fight isn't totally over, but this is a victory for not only the domestic violence survivors in Doncaster, but the Sisters Uncut movement.
So how did it come to be that a domestic violence service, providing a lifeline to hundreds of women, was saved?
The story is beautiful, and one of true sisterhood and solidarity.
Let's start from the beginning, with the words of the sister who ignited it all:
"In the last week of January, on my day off, it is announced to staff by management and trustees that Doncaster women's aid would not be granted the Big Lottery funding. Therefore, we would be closing our doors at the end of March. This would mean that there would be no more Women's Aid across the whole of South Yorkshire, and the only support for BME women would go too.
I return to work on the Monday where upon I am told the same thing, and because I'm a campaigner I believe, told not to inform any unions. Later, a colleague tells me that according to trustees, even if Big Lottery did fund us, we would still be closing down.

We're both bewildered. Another colleague and I are talking and she asks me if I have any ideas to save the service: I say yes, and that there is an army of people in the community who would fight to save it.
However we are asked to keep quiet about the imminent closure, telling only close family. I start planning a community meeting in February, which is looking at the job losses and service closures affecting women in our town. In other words, the effects that austerity is having on Doncaster women.

I state I will be announcing my imminent job loss. I explain that people in the community will be devastated and that women will die if it closes. However, I'm silenced by management in case I jeopardise any funding from the council. Colleagues also urge me to stay quiet because I may affect their future job prospects.
But I will never stay quiet, especially when it comes to violence against women. This is how violence continues. I am only a caretaker of my job as a domestic abuse advisor, and Women's Aid belongs to the community. Therefore I have a responsibility to help it stay open. Women fought for our service to exist forty years ago with blood, sweat and tears. This is the tradition that domestic violence services stand in and I'm prepared for the blood, sweat and tears it will take to save our service. Men in power don't care about women's lives, so we have to look after each other.
So we started a campaign to Save Doncaster Women's Aid, calling it 'Women's Lives Matter'. We contacted Sisters Uncut in London in desperation for any support and advice they can offer to us.  After watching their direct action protests, they appear to us like a beacon of hope, like a lighthouse blasting out its light, shouting danger ahead."
On the 3rd of February, Sisters Uncut received a Facebook message:
"Hi, I'm a domestic abuse advisor In Doncaster til the 31st March. I work at the only Women's Aid in South Yorkshire. I am devastated by the news that we are to close due to lack of funds….
We have the perfect storm in Doncaster; we have historic high rates of domestic abuse coupled with low wages and part time work for many women. There has just been the murder of a school girl and her mum in Leeds near us. Doncaster has just been told it has some of the highest rates of DV and child abuse In the country. 
Cuts are destroying our town… our people… but women are taking the brunt of this with attacks from the state and within their relationships. I am grieving at not being able to do my job, but I am beyond worry for women in this town who Women's Aid support. I am desperate for support" 
Sisters Uncut London leapt into action, calling out for members who would specifically work as buddies with Doncaster sisters to help them. A London Sister replied to the Facebook message and asked if the Doncaster sisters had much experience in activism. The small, diverse group of women in Doncaster, a working class mining town, were of course seasoned activists who knew how to fight for their community. Some sisters were in their 60s and 70s who had been involved in Women Against Pit Closures. However, they were a small group, the fight was big, and the woman who was leading them was feeling overwhelmed. So London Sisters arranged a phone call to speak properly.
Fighting against male violence is often so overwhelming, stressful and lonely. After over an hour on the phone and some tears shed, the roots of Sisters Uncut Doncaster were starting to grow, and Sisters from London went up to visit them for a strategy meeting.
"We didn't believe we could win or fight, so we hoped they could be our fairy godmothers, but they were better than that. They gave us what we needed: confidence, strength and hope. 
We met and put together a strategy. Our aim was to get the closure talked about everywhere. We decide to take direct action. We need those in power to listen to us, to listen to what the community needs. We will not give up until our demands are met and women have support."
It wasn't long before there was an action planned, and a group of London Sisters went up to help make some noise outside the town hall and gather petition signatures that the Doncaster Sisters Uncut group wanted to deliver to the council. Local press came, which helped spread the word of the campaign.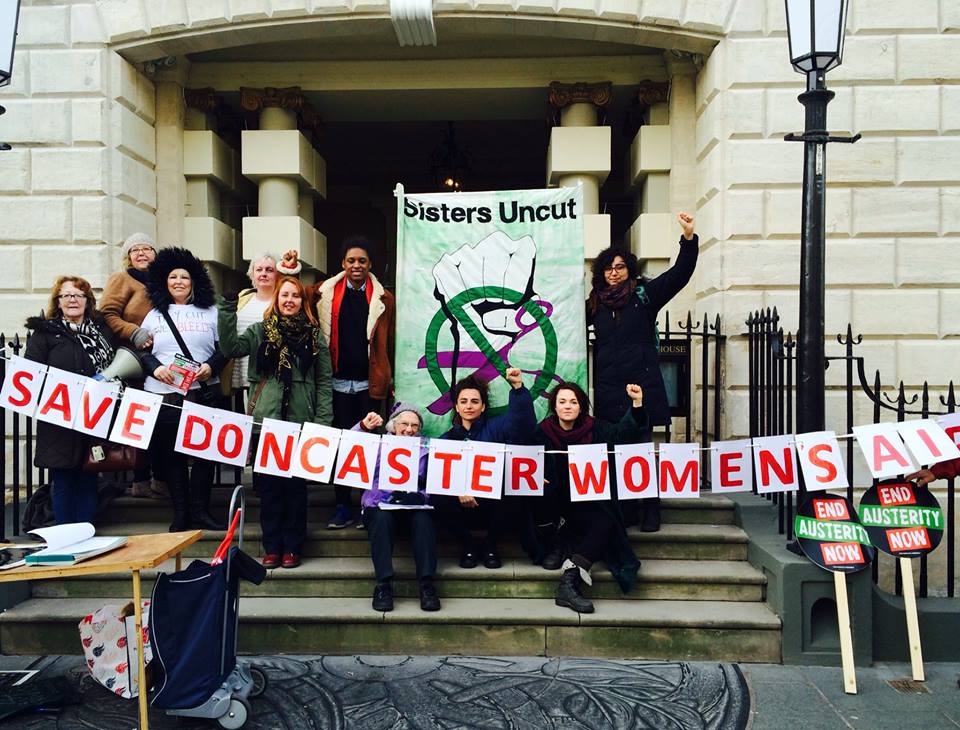 After this, things really started to get moving in Doncaster. Doncaster sisters didn't stop for anyone or anything. There were demonstrations outside the council building, there were banner drops in council meetings and eventually, there were negotiations with the council. Here's a video of the first time they did a banner drop in a council meeting on the 3rd of March, exactly one month after Sisters Uncut were first contacted.
"We planned to drop the banner and protest at the council budget meeting. We do it. And we don't believe we actually did it…It was filmed, put on YouTube, and widely seen. We felt we were having an impact"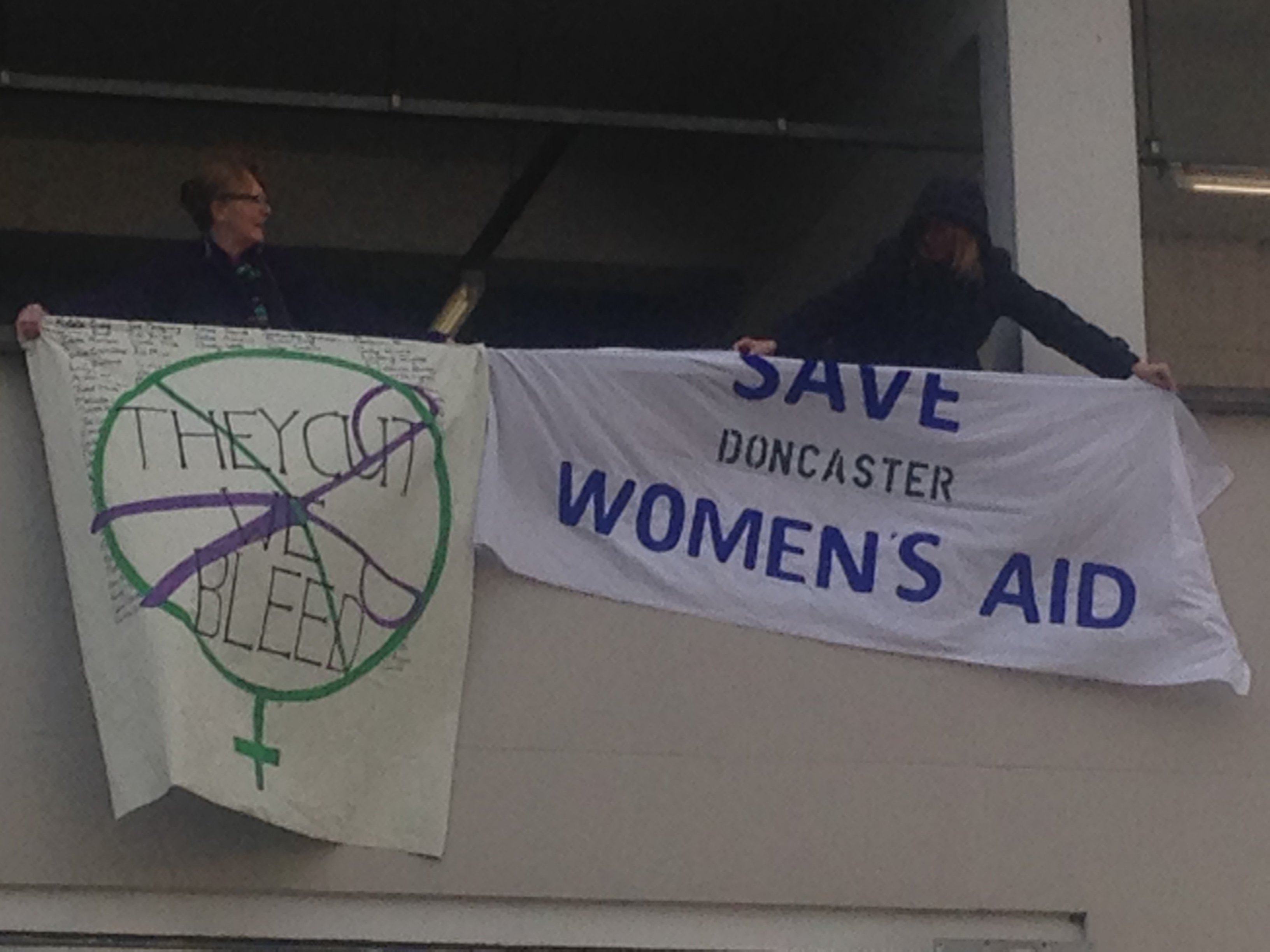 Doncaster sisters spoke for the sector workers who didn't feel like they could speak out, and they built solidarity across the broader left, gaining supporter from other groups like Junior Doctors, anti-Trident campaigners, the Doncaster and Sheffield NUT branches, DPAC and the Baker's Union. Doncaster sisters support local stand up to racism meetings, travel down to support a protest outside the women's immigration detention centre, Yarl's Wood, and are invited to speak to the York People's Assembly. Solidarity from other groups at this time was not just reassuring, it was empowering, because Doncaster Sisters were being criticised for calling on the council to save the service.
The Baker's Union helped the group by buying green and purple ribbon so the group could be recognised as standing in the tradition of the Suffragettes and Sisters Uncut.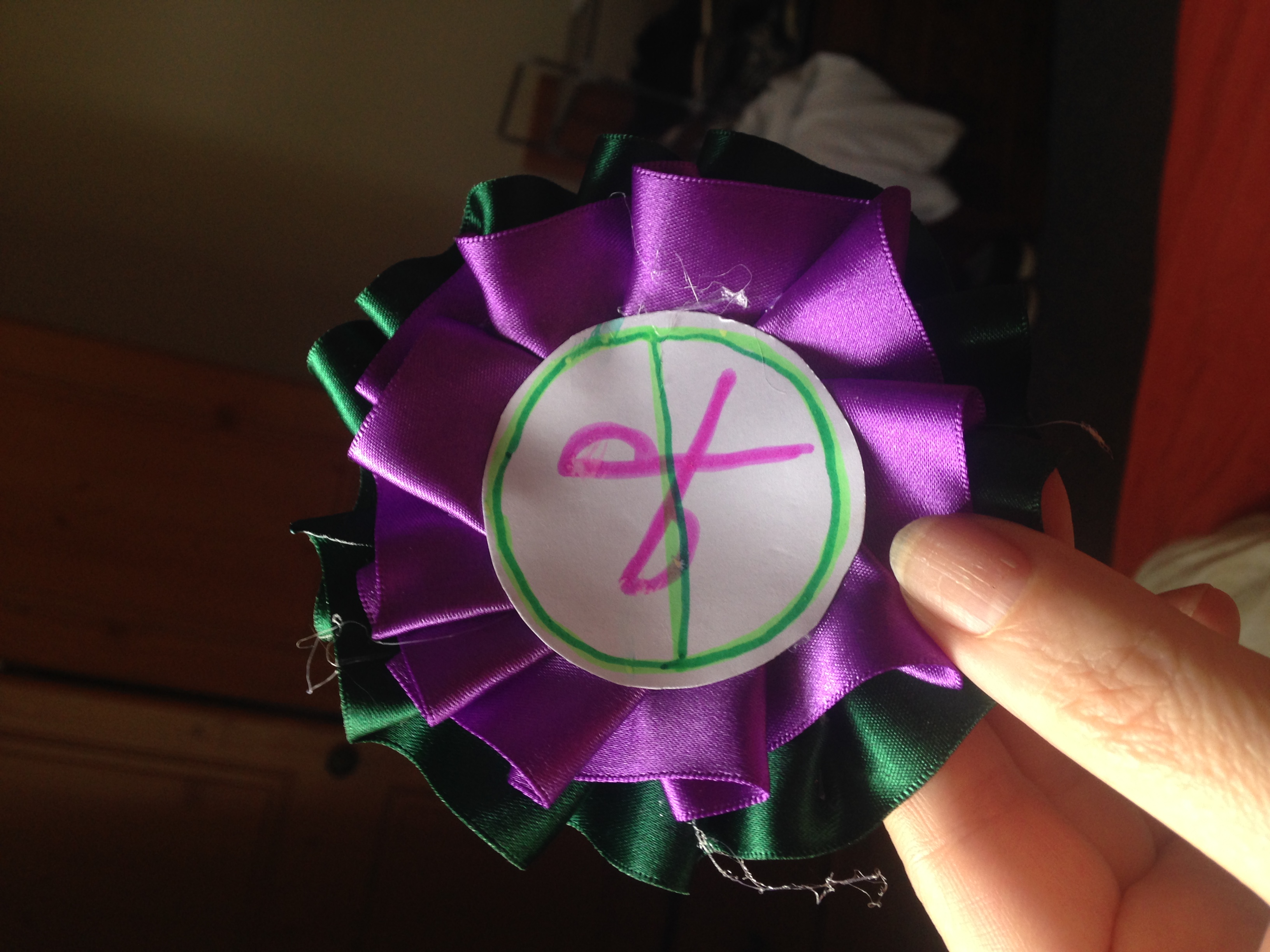 Doncaster sisters had community outreach at the core of their movement.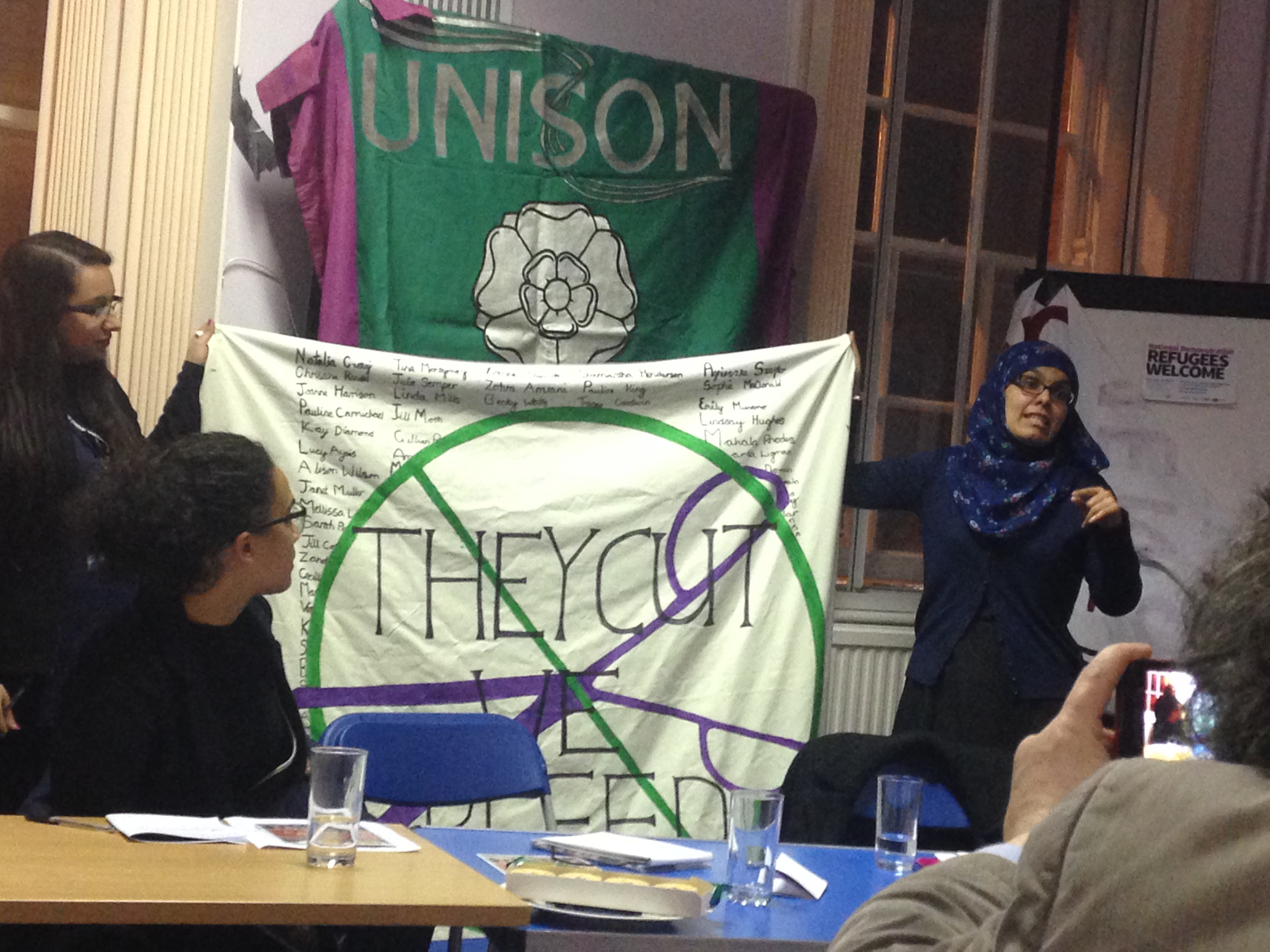 "We are starting to feel powerful. We are starting to feel strong. We are determined to win. But if we don't, we will have done all we can to stop the closure. But we can't see us stopping."
Through their social media channels, London Sisters Uncut managed to connect a Yorkshire filmmaker with the Doncaster group, and they work together to make a film about the campaign. The film is created by a Yorkshire artist's collective, and it went live on the 10th March:
"It is not easy. We are women. Our lives are never easy. Our struggle is not always understood or supported. It is often fought against. 
We bring women together from all walks of life and bring all our experiences together to make the biggest impact.
We see who are friends are. We know what family truly means. We suffer and struggle together.
When nothing is happening for a couple of days we all feel like we are slacking; we never are; we are always talking about the closure to friends, family, colleagues and strangers."
Then, in March, there was news that Women's Aid was staying open an extra month. That gave the group much-needed time to step up their fight. There was also finally talk from the council about funding, and the potential for the Big Lottery funds to re-open.
Meanwhile, Question Time comes to Doncaster. It's the perfect opportunity to get the issue of Doncaster Women's Aid heard by a national audience. Lots of the group apply to be audience members, and three of them actually get into the studio. The show ended up making headlines:
"We think it could be a good show. It's not. People are called upon to stand up and read their question out as a practice for the show, but not one woman is called. And the questions don't in any way relate to oppression women children and men are suffering in Doncaster.
There is uproar from sisters and other women in the audience. We shout out that the BBC is sexist. Dimbleby ends up coming out to say that he will take women speakers during the show if they put their hands up.
So I put my hand up. I get to speak and blame the Tories and austerity for domestic violence services in Doncaster closing."
The clip is here.
BBC Sheffield immediately contact the group for an interview, and they're invited to meet with the council. After the exposure on TV, lots more people now want to help to save the service, and more people are directly putting pressure on the council.
But it's too late.
On the 29th April 2016, three months after the closure was first announced to staff, Doncaster Women's Aid closes its doors after forty years.
But sisters didn't stop there.

"We stepped up our demands. The council asked to meet with us and said that we can bid for funding to set up a service. Many of us are already support workers and survivors, and we know what the community needs. Many people with many skills, from legal to casework, including male allies, offer their support, advice and free time to build a huge funding application and start plans to restart the service"

And this is how South Yorkshire Women's Aid was given life; with a large grant from Doncaster council. Showing that austerity really is a choice, not a necessity.  The Real Junk Food project, a local community kitchen, offered a partnership and the use the upstairs floors of their space, rent-free.
A grassroots domestic violence service is launched, and there's a party to celebrate, with Sisters from London coming up to visit and share the latest news in their struggles with local councils. Newcastle Sisters Uncut, a recently formed group, come to talk about their plans to save a service in their area. Our movement continues to grow and strengthen.
Sisters Uncut started in London in November 2014, but now has groups in Portsmouth, Glasgow, Bristol and Newcastle, as well as three London regions.
"We are powerful.
We are strong.
We can win."
If you're worried about a domestic violence support service closing in your area, or want to set up a Sisters Uncut group, contact [email protected] now. Your sisters are here to support you.