State violence is domestic violence; In support of the Sarah Reed Justice Campaign
Tuesday, April 12, 2016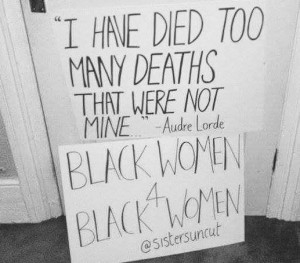 Content note: sexual violence, police violence, death of a child
Let's get something straight – violence against women is not only perpetrated by intimate partners and family members. It is also enacted by individuals, institutions and structures that prevent us from living safely and securely, with a personal, family and social life. We cannot fight violence against women if we don't fight the state structures that enable it.
On any given night in the United Kingdom, 86,000 people spend the night in a prison, 18,000 are detained in a mental-health ward, 2,500 in an immigration detention centre and 2,000 in a secure youth setting. That's 108,500 people who are legally required to call a state institution their home until it is determined by law that they can leave.
So if during a period of detention, a woman or non-binary person is subjected to violence, abuse or oppressive discrimination, Sisters Uncut considers this domestic violence. It happens in the place that they're required to call home, where they sleep and where they have a right to safety and security. When this violence is perpetrated by a person, system or structure whose role is to provide this safety, care or medical treatment, then it is an act of state domestic violence. This includes abusive acts such as denying access to therapeutic support, preventing visitation from children and solitary confinement.
Sarah Reed was the victim of state perpetrated domestic violence at more than one institution and at the hands of the Metropolitan Police. As a black working class woman with long-term mental health needs she was the victim of the routine classist, sexist and racist violence that is endemic in state institutions. For Sarah this ultimately resulted in her death at Holloway prison, on January 11th 2016 aged 32 years old.
Sarah's death followed a catalogue of failures and abuses starting in 2003 when after tragically losing her child, she was given her daughter's body wrapped in a sheet, to take to the undertaker in a taxi. Her grief, coupled with this unimaginable cruelty, resulted in Sarah experiencing mental ill-health that continued until her death.
In 2014, Sarah was violently attacked by a police officer when accused of shoplifting. The incident was caught on film, but the officer only received community service.
In 2015, whilst detained under the Mental Health Act, Sarah was the victim of an attempted rape. After defending herself from her attacker, it was she who was charged with grievous bodily harm, and sent to Holloway Prison.
Whilst in Holloway Prison, Sarah was denied the medication that had helped to stabilise her condition in the previous year. Despite pleas from herself and her family about her deteriorating mental health, her medication was not reinstated. On 11th January 2016 Sarah was found dead in her cell.
Sisters Uncut stands in solidarity with Sarah Reed's family and will fight alongside the Sarah Reed Justice Campaign. We will take action to expose the violent institutional oppression in our police, prisons and mental health services: to put an end to state violence against women.
You can follow the Sarah Reed Campaign for Justice on Facebook and Twitter.