Sexist austerity: it won't stand up in court
Tuesday, March 1, 2016
There's nothing worse than a sore loser – except a sore loser with the power to make discriminatory, life-threatening decisions that affect an entire country. This week, the government has quietly sent legal representation to the Supreme Court to contest a ruling made by the Court of Appeal last month, a ruling which found the Department of Work and Pensions' imposition of the "bedroom tax" on domestic violence survivors with a panic room and disabled people who need a spare room both discriminatory and unlawful.
It seems ironic that Leap Year Day, the first day of the court proceedings, is a day that normally doesn't exist; the DWP's actions are just as counter-intuitive. Contesting the decision made by the court will cost more than it would to exempt panic rooms from the bedroom tax: this only goes to demonstrate how the government's austerity agenda is ideological and spiteful to the core.
Since forming in November 2014, Sisters Uncut has fought back against the dangerous war being waged by the government. In fact, the legal decision made last month in the Court of Appeal ratified one of our earliest Feministo demands: to not classify panic rooms as a spare room under the Bedroom Tax. But if the ruling proves legally what we have been arguing all along – that this government is sexist and ableist – the fact that the government is now contesting it exposes its deep-set commitment to such discrimination.
This is why on Monday 29th of February we stood outside the Supreme Court alongside groups that called a vigil for the Bedroom Tax, including WinVisible and Women Against Rape. We stood against the government's life-threatening austerity project, to show our anger that it would try and fight the Court of Appeal's rightful decision, and to express solidarity with all those affected. As was said at the demonstration by speakers, the bedroom tax disproportionately impacts women, disabled people, people of colour, working class people and migrants. Such blatant discrimination cannot and should not be tolerated.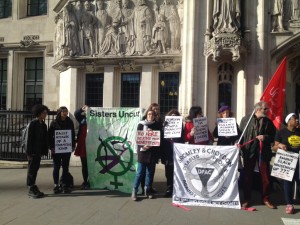 What do legal aid and the bedroom tax have in common?
The bedroom tax forms only one small part of George Osborne's austerity agenda. And the decision made by the Court of Appeal on the 27th of January was not the first time the court has ruled in our favour – and that the government has been shown up for incompetent, unlawful and ideological decision-making. This month, on the 18th of February, the Court of Appeal ruled a second time in line with our Feministo demands, finding that the harsh restrictions imposed on access to legal aid for victims of domestic violence were unfairly punitive and endangered lives.
Changes brought in in 2013 by the government restricted how people are able to access legal aid, compelling domestic violence victims to provide evidence of their experiences – in many cases within a 24-month time frame.  This not only placed an unfair and traumatic burden of proof on survivors, but also ignored different types of abuse experienced in relationships, such as financial abuse. Legal aid is a lifeline for those fleeing domestic violence; the government's choice will have prevented many from accessing this.
Two demands met – but no celebrations yet
The law isn't often on the side of activists. So that it has ruled to meet not one but two of our Feministo demands in the last two months just goes to show how wrong the government is. But we're not celebrating yet. Yes, the decisions made in the Court of Appeal validate two of our demands: guaranteed access to legal aid for women experiencing domestic violence and not classifying panic rooms as a spare room under the Bedroom Tax. But the government is contesting the second decision; and as Rights of Women have noted, there are many who will have been denied access to legal aid since the government imposed its restrictions.
The court rulings are simply neutralising damage; they cannot undo the damage that has already been done. If a government makes laws which are then found illegal, what does that say about its rule? Austerity is a choice. Austerity kills. Sisters Uncut will keep fighting until all our Feministo demands are met, and the government provides support for domestic violence survivors and all self-defining women and non-binary people to live in safety.